About Us

Witmans Industries Pvt. Ltd. is an ISO 9001:2008 certified organization which started its business in the year 1999. Since then, we have been manufacturing, supplying and exporting an expansive range of Textile Machine Oils, Industrial Lubricant Oil, spin finishes industrial oil, textile lubricants, industrial lubricants, textile oils, industrial paints and coatings. Apart from this, we are catering to the requirements of Rubber process oils, Metal working fluids, Automotive lubricants and Rust preventive oil. Our offering are formulated with precision and with premium quality raw material, sourced from some of the best refineries in the world.


We have gained credibility in the market with the support of experienced and qualified engineers and tribologists who continuously help us in introducing newer products and technology in the market. This aids us in meeting the ever increasing demands of our clients with assured efficiency and perfection. We take pride in being the most preferred supplier to some of the well known clients in domestic and overseas market with a sales volume of over 40,000 metric tons per annum.

Our Vision

To achieve Market Leadership in the realm of Textile Lubricants, Industrial Lubricants, Paints & coatings.

Our Mission

To offer Customized value added products and services through innovation and technology.
Surpass Global Quality Standard.
Identify potential products and distribute across the globe.

Infrastructure

We have a well planned production site covering 5 acre land including blending capacity of 4500 Mt per month and storage capacity of 5000 MT. Our completely automatic blending plant has online control as well as process monitoring through SCADA technology.

Besides, we also have an ultra modern Esterfication Reactor to manufacture 1000 MT/month of esters & emulsifiers.

Quality Policy

We are committed to delight our clients with complete satisfaction through world class quality products at industry leading prices and timely shipment.

Quality Assurance

We have implemented a quality management system in conformance to ISO 9001:2008.

Development of new technologies with diverse set of applications, is one of our major focus.

To keep a pace with the changing technology, we ensure constant innovation. For this, we have set a product development department which is staffed with talented personnel. They keep on developing superior quality products in accordance to the stringent needs of modern processes and machinery.
Rubber Proces Oil



Witplast Brochure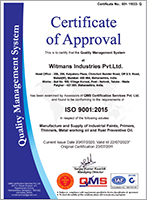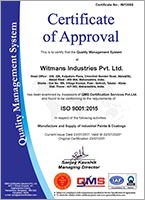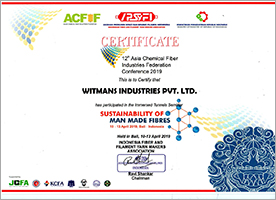 Read More